Betadine®
Antiseptic Sore Throat Gargle
Treat and relieve sore throat symptoms with the trusted power of iodine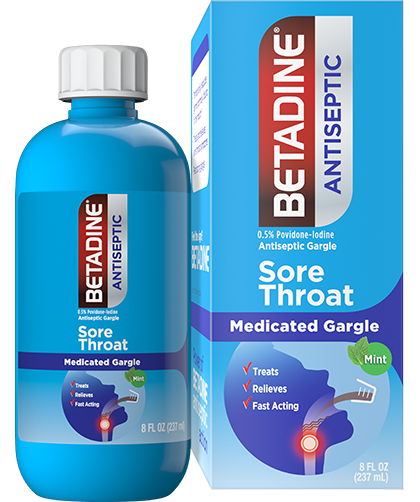 Betadine® Antiseptic Sore Throat Gargle
(povidone-iodine, 0.5%)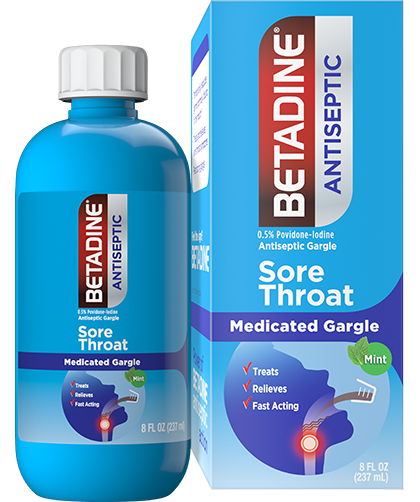 The moment you feel a sore throat coming on, use Betadine® Antiseptic Sore Throat Gargle to treat and relieve sore throat symptoms.
Benefits of Betadine® Antiseptic Sore Throat Gargle
Treats and relieves sore throat symptoms
Medicated, fast-acting throat gargle
Temporarily reduces germs normally found in the mouth*
Mint flavor
Powerful antiseptic action right where you want it*based on laboratory data
Use for:
The temporary relief of occasional sore throat


1
Use only with dosing cup provided.


2
Gargle with 10 ml full strength for 30 seconds.


3
Spit out, do not swallow. Use up to 4 times daily.
Children under 12: Do not use.
How is gargling different from rinsing?
Gargling action is generally different than mouthwash or rinse action. With a gargle, the solution is used in the back of the throat, while with a rinse/mouthwash, it is used in the mouth. Rinsing with mouthwash requires you to swish the product between your teeth.
Use as directed. Please read full product label before use.