Betadine®: Infection Protection You Can Trust

Betadine®:
Infection Protection You Can Trust

Betadine® antiseptic products are your first line of defense against a wide variety of germs that can cause infection, so your family can feel protected no matter what life throws at you.
Use Betadine as the first treatment after a minor cut, scrape or burn to help prevent infections before they start.
Betadine® Badge of Honor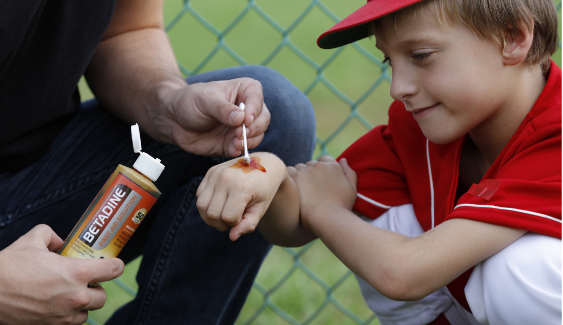 Kids wear their cuts and scrapes with pride. And when you treat their minor wounds with Betadine, you can feel assured by the signature golden-brown spot that Betadine is working to help prevent infection.
Betadine gets its unique golden-brown color from the iodine in its formulation. The temporary golden-brown spot on the skin helps you know where you've applied it and that it is working.
Betadine should not cause significant staining.